Are Men Really Better Drivers Than Women?
I have never met a guy who will accept that a lady can be a good driver (let alone better than a guy).
I will try to accept it and digest it for a second if such a thing will be said by a man of foreign land i. e. women are not good drivers (where men themselves have some sense of driving and they follow traffic rules). However, when Indian men say it, I can say nothing more than 'look who's talking!'.
If you don't agree with me then read further and you will realize why I am saying so. In India, men have lost all the right (not that they had it in the first place) to say that Ladkiyon ko gadi chlani nahi aati!
1. There are men who drive while talking on the phone, which is, of course, bad and you know what is worst, that they drive in the first lane. They drive at a speed of ox wagon. The person behind them keep honking the horn and they turn a deaf ear to that for their ear is busy attending the phone.

2. There is no prohibition in talking to your co-passenger or the one sitting next to you as long as you are not driving that vehicle!
3. Then there are the ones who will stop in the middle of nowhere to ask for the route. Wherever they will find the path show-er, the vehicle will suddenly come to a halt. As if it is none of their business to check if someone is behind them.
4. There is another category where they are neither busy talking to someone nor they stop in between but yet they are not driving normally. They drive like as if it is not a car but a rocket. The board defining speed is for everyone but them.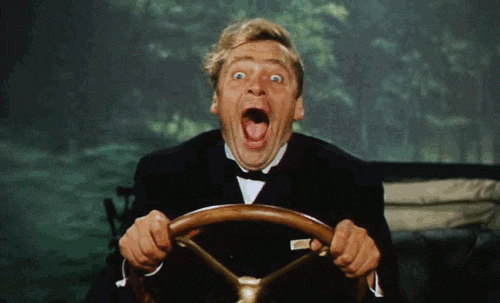 5. Last but not the least, there is a clan of super smart gentlemen who are supposed to take the right turn and yet they drive on the extreme left. When the time comes to take the turn, they not only become an obstacle for 2nd and 3rd lane drivers but also becomes a reason for the traffic jam.
If you think that I am wrong to judge & categorize men as there are few who don't qualify to come under any of the above points, then I hope you got my point!!! 
And now you will not say on seeing a car driven badly, Zarur koi Ladki drive kar rahi hogi.